A 2-Alarm fire put any early end to a dinner party for restaurant patrons at Pepato Café & Grill 900 Northern Blvd this evening. A telephone alarm of a structure fire was received at the County Communication Center and dispatched at 6:37pm. South Abington Township Police arrived on scene within minutes and reported a heavy smoke condition from the roof.
Chief 2 (Percival) arrived on scene to find heavy smoke and flames from the roof and requested a 2nd Alarm. 1st Alarm companies included Chief 2A (Connolly) Engine 2, Rescue 2, Ambulance 2-9 and Chief 2-B (Grierson). 2nd Alarm companies saw Engine's 4 & 8, Ladder's 4 & 5along with Ambulance 4-9 arrive on scene to assist Chinchilla Hose Company firefighters. Tower Ladder 20 and Rescue 95 filled in at Station 2 and Ambulance 8-9 was relocated to Station 4.
Firefighters had the fire knocked down within ten minutes and checked for extension. Heavy damage was confined to the restaurants roof area, while the interior suffered minor smoke and water damage. Two other businesses that share the strip plaza, PNC Bank and Summit Cleaners were also checked with no extension or damage found.
Firefighters believe the fire originated in the restaurants AC unit. The restaurant will remain closed pending repair and cleaning. All units returned to service by 8:05pm.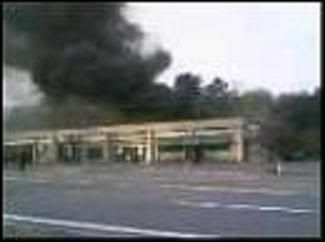 The photo above was taken by a member prior to any units on scene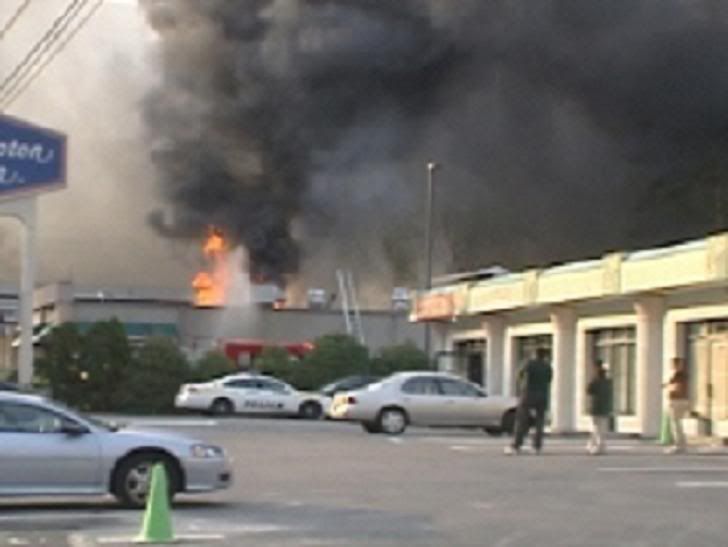 Picture above is from WNEP.com, units just arrived on scene
Origin of the fire